Arts in Education: school assemblies, residency programs and teacher training

The research is now clear and undeniable - the arts are critical to a child's well being and help children to succeed in all academic areas.  Stuart has worked in the arts-in-education field for over 20 years, using music to teach core curriculum and inspire young learners.  Through concerts, workshops and residencies, he works with students in preschool, primary, elementary, intermediate, middle, high school and college settings.   

Stuart has presented his assembly programs and arts residencies through Young Audiences of America and through the federally funded Buffalo Arts Teachers Collaborative to teach ukulele to public school music teachers and students. (see video below)
"I had the great pleasure of collaborating with Stuart to introduce Ukulele to my elementary general music students. His amazing performance skills truly inspired the students. He had an easy going, relaxed but focused, warm and accepting rapport with everyone. I was very impressed with Stuart's ability to incorporate history and culture into the beginning lessons. I am a pianist and had no string instrument experience, but in three short visits, Stuart gave me the confidence to lead my grade 4-6 students in playing several two and three chord songs together...he made it all seem easy. We hope he comes back soon!"
–Elise Golove, General Music K-6, Buffalo Public School #45

Stuart presents curriculum based assembly programs for grades K-12

CONTACT STUART FOR MORE INFORMATION
 
---
Workshops for College students and Music Schools
 
Teacher training and music education students: Ukulele in the classroom
Through his years of experience as a K-8 and college music teacher, Stuart has learned just how versatile the ukulele is for teaching a wide variety of music skills.  This workshop is designed for music education students as well as experienced teachers - NO prior music experience is needed to learn to play and everyone will be making music by the end of the session!

The ukulele is currently enjoying a worldwide surge of popularity (known as the "third wave" in uke circles) and is now recognized as a very easy, fun, social, portable & affordable tool for students and adults of all backgrounds to learn note reading, sight singing, harmony and to accompany themselves in song. In this workshop, Stuart will share teach the basics of how to play the ukulele and offer teachers many strategies and resources for how to teach and use this easy to play instrument in their work as educators.
In addition to being a wonderful subject of study for the music classroom, the ukulele is also a perfect classroom tool for teachers of any subject. In this presentation, Stuart will demonstrate how just a handful of chords can easily accompany many songs that support core curriculum subjects.  The ukulele is also a powerful tool for creating memorable and effective classroom transitions - invaluable for elementary, middle and high school teachers.  
Stuart presents his educational programs on the ukulele at festivals and school across the U.S. 
 
Music Therapy Students: The Healing Power of Sound & Music
Modern science is now confirming the centuries old claims of music's power to reduce stress and heal our mind, bodies and spirits.  Stuart has used to music as a healing modality since he was a young boy; his experiences as an artist-in-residence at Roswell Park Cancer Institute, performing the sacred mantra-based music of Kirtan, as well as his workshops in Naad Yoga (the Yoga of Sound) has given him a wealth of experience in how entrainment through community music making and deep listening can cultivate a deep state of well being in a healthcare and hospice setting.
This program support a collegiate music therapy program with an overview of the history of music as a healing modality as well as practices for bringing music and service to the patent's bedside.  Stuart will demonstrate the healing music created by the powerful vibrations of several overtone rich instruments including the aboriginal didjeridoo and Tibetan singing bowls.  He will also lead guided meditations that are now being clinically researched for their positive affect on Alzheimer's patients. 
Stuart will facilitate a series of activities that honor our individuality and offer a deep experience of ancient healing technologies of overtone singing, mantra, and community drumming.  This program nourishes the participants and empowers everyone to share music's healing power with their families and communities. 
More on Stuart's work in the healing arts can found by CLICKING HERE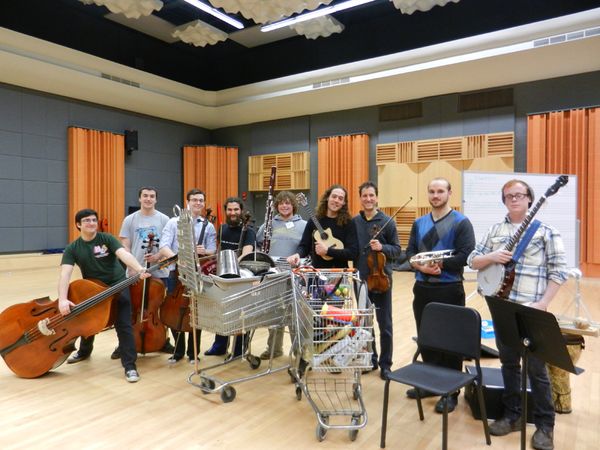 Contact Stuart to book a program for your school

"The staff and children at Corning Children's Center always look forward to time with Stuart.  Whether he is here to perform for our young audience (3 month to 5 year olds) or to teach our school age students the basics of playing the uke, he is a hit!  He is not just a talented musician, but also a sensitive, insightful, delightful teacher.  If we were into grading, we would give him an A+!"  
             — Peigi Cook, Director Corning Children's Center, Corning NY
"Not only was the ukulele workshop fun and inspiring, but there were many lessons that I took back into the practice room. Stu's mantras, 'music is fun!' and 'this is easy!' reminded me to stay loose and enjoy the process. It rejuvenated my practice routine, and infused joy into my classical music making. Thank you, Stu!"
 
— Anna Lee Hirschi, Music Student @ Smith College Northampton MA
"Many artists give workshops and concerts. "Stukulele" stands out among them adding wit, intelligence, charm and ease to his teaching and playing style. Plenty of take-away for both beginners and advanced players.  Pittsburgh wants him back."
-- Marlene Parrish, Pittsburgh Post-Gazette, Steel City Ukuleles
"Stu is one of the greatest ambassadors for music I have ever met. Whether he is performing, teaching, or just talking, his passion and artistry shines through. You cannot help being pulled into the music when Stu is around.  He is the real deal."
- Daniel Hart,  Executive Director,  Buffalo Philharmonic Orchestra
Stuart and Babik performed with the Orchard Park Symphony to a delighted audience and very satisfied orchestra. The arrangements were very good, the rehearsals were smooth, and the concert was joyful--they are excellent musicians. Stuart, besides being a great player, is also a wonderfully kind and free human being. It's a pleasure and honor to know him.
- Dr. David Rudge,  Director of Orchestras and Opera, SUNY - Fredonia, Director, Orchard Park Symphony